Sustainable Communities/ZERI-NM: Collaborative Forest Restoration Project
By Kay Matthews and Mark Schiller
Editor's Note: As part of our ongoing series of articles regarding the Collaborative Forest Restoration Project (CFRP), this month we take a look at Sustainable Communities/ZERI-NM (SCZ), a project to add value to small diameter timber. Last month's highlighted CFRP project, El Greco, plans to set up a biomass waste recycling project in cooperation with SCZ.
ZERI Foundation is a Swiss-based international non-profit organization that works with communities to implement sustainable projects "in which the use of natural resources, as well as industrial processes, beneficially convert all waste products to value-added inputs for some other production process." Sustainable Communties/ZERI-NM (SCZ) is a partner with ZERI Foundation and was funded by CFRP in 2003 to set up a pilot project that will use small diameter timber that is already being cut under federal fire reduction programs on Picuris Pueblo. The timber slash and brush will be converted into higher value products: non-toxic charcoal for cooking and filtering; preserved wood using the gasses produced by the charcoal ovens; and native edible mushrooms, grown on the chips from the slash. The mushroom substrate will also help restore impacted areas with new humus, and the project will also explore its use as animal feed. The total cost of the project is $356,975: $214,175 in grant money with a $135,000 inkind match.
Since April of 2004 SCZ has brought the following international consultants to New Mexico:
• Carmenza Jaramillo of of Colombia demonstrated how to grow shitake mushrooms.
• Antonio Giraldo of Columbia showed the organization how to make charcoal and preserve wood with the off gasses.
• Ivanka Melenkovic of Serbia showed SCZ how to use native mushrooms to inoculate branches of thinned, small diameter trees and invasive species and how to establish a longterm, native fungi culture bank.
The bank has been started by two biologists at Lynda Taylor's home in Santa Fe (Taylor is one of the founders of SCZ) but is now being moved to a site near Siler Road, where SCZ will also begin mushroom production on innoculated wood chips.
In 2004 SCZ, in conjunction with New Mexico State University, state forestry, and with the backing of Governor Richardson, applied for capital outlay funds from the state legislature to fund both mobile charcoal and wood treatment ovens and a fungi bank that would continue beyond the life of the CFRP grant. NMSU is interested in establishing the fungi bank in Las Cruces as a statewide project. The capital outlay money, $350,000, eventually ended up earmarked for the projects at Picuris, and SCZ is currently negotiating a joint powers agreement with the pueblo and NMSU through the Department of Indian Affairs to purchase additional ovens, which could hopefully be leased statewide, and to jump start the fungi bank (Picuris has until June to spend the funds or they revert back to the state). The group is applying to the 2005 legislature for funding for two microbiologists to work on the fungi project at NMSU.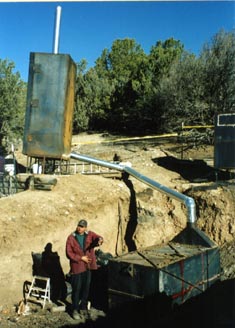 Luther Martinez of Picuris with charcoal oven below, wood preserver above
La Jicarita News visited Picuris Pueblo, where the SCZ pilot project is located. Luther Martinez, project director and native of the pueblo, showed us the site where Picuris produces the charcoal and preserves and dries the wood. Unlike the Columbian operation that uses a pit dug in the ground to burn the wood slash for charcoal, SCZ has provided the pueblo with a steel oven to burn the wood. The oven sits in a manmade depression, so smoke from the oven rises and is piped to the wood preserver on the hill above. The preserving tank has copper tubing attached to its inside walls to circulate water to help maintain a constant temperature of between 140-160 degrees Farenheit. Martinez told La Jicarita that his crew is still experimenting with the process to get the best results.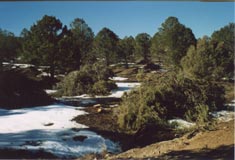 Picuris Pueblo thinning site
The wood slash for the ovens is coming off a 20-acre piñon-juniper plot on pueblo land adjacent to Chamisal that is being underwritten by the BIA (SCZ contributes to the crew's salary). The bureau, in consultation with the pueblo, determined a prescription that favors piñon and ponderosa pine. Martinez has trained two pueblo youth, Chris Simbola and Dale Snake, to fell and buck the trees, which are then tranported to the pueblo for sale as firewood and to supply the ovens. Martinez has arranged to borrow a chipper from San Juan Pueblo to convert the slash to mulch, in order to help restore the understory and as a potential medium for growing mushrooms.
Although the forestry crew's resources are stretched to the limit in terms of manpower and equipment, Martinez hopes to expand thinning operations on the pueblo itself. His highest priority is thinning the dense piñon-juniper forest behind the Jack-rabbit Hill housing area and he would then like to thin the overgrown areas in the bosque. The pueblo has purchased a portable sawmill to process ponderosa pine from their thinning operations, but lacks a flatbed truck to transport timber. With last year's capital outlay funding, hopefully the tribe will be able to turn the SCZ pilot project into a viable pueblo business: support and expand the forestry crew as well as increase the capacity of the charcoal-wood treatment operation.
SCZ is also looking at other northern New Mexico sites that could supply small diameter timber to run the ovens. So far, Picuris is the only site where the ovens have been in use, but they were designed to be portable, and SCZ is also looking at possible collaborations with La Jicarita Enterprise at its Mora site, on the Pecos Ranger District in the Walker Flats area, which is NEPA ready, and with El Greco, in Truchas. Luis Torres, who is a SCZ consultant and longtime northern New Mexico activist, is designing a new charcoal stove that will soon be taken to Picuris.
SCZ has a long way to go, however. It will have to dramatically increase the capacity of these operations in order to make them economically viable. Once the 2003 CFRP funds have been spent the group will have to rely on legislative funding and other grant monies to reach a point where all their waste conversion products - charocal, preserved wood, and mushrooms - are sustainable. Despite all the obstacles, Lynda Taylor remains optimistic: "What better place than northern New Mexico to work to provide economic opportunity that is environmentally sound and consistent with land-based values." To follow SCZ progress you can check the website at: www.scizerinm.org/projects.
SCZ also hopes to collaborate on another project with Picuris Pueblo to replace their existing sewer lagoons with an integrated sanitation and biomass farming system. In this system, wastewater enters at one end of a biodigester (a closed container) under anaerobic (without oxygen) conditions and is processed for 4-6 days by natural bacteria before emerging at the other end as digested effluent. The effluent would then be used to fertilize fish ponds and crop fields; left-over sludge would be used for growing organic mushrooms and vermiculture for worms; and biogas generated in the process could be used for heating the digester and/or a greenhouse.
Announcements
Upcoming Publicity Dates for Release of Chiva-A Village Takes on the Global Heroin Trade by Chellis Glendinning
Wed 16 Feb, 2 pm: LEGISLATURE READING at Río Arriba County Day, Roundhouse, Santa Fe, Contact: Lauren Reichelt 505-753-3143
Fri 18 Feb, 8 am: RADIO INTERVIEW on "Straight from the Heart" (with former Río Arriba County Commission Chair Alfredo Montoya), hosted by Ron Chapman, KUNM 89.9 FM, Contact: Ron Chapman 505-277-4806
Sun 20 Feb, 3 pm: CHIMAYO READING at John Hyson Center, Juan Medina Rd, Chimayó, Contact: Chellis Glendinning 505-351-4470
Fri 25 Feb, 5 pm: SANTA FE READING at Garcia Street Books, 376 Garcia St, Santa Fe, Contact: 505-986-0151
"Chiva [street slang for heroin] uses creative non-fiction to merge the global epic of heroin trafficing with the human scale story of its presence in the small desert town that boasts the most per-capita overdose deaths in the U.S." La Jicarita News will review Chiva in the March issue.
EcoVersity's 2005 Certificate Programs
The 2005 winter semester at EcoVersity in Santa Fe will begin in February with two certificate programs in Earth-based Vocations and Permaculture Design. Info at 505-424-9797, www.ecoversity.org, 2639 Agua Fria Road, Santa Fe, NM 87505.
Recent Publications of Honor the Earth
Minneapolis-based publisher Honor the Earth recently released two publications: Indigenous Peoples, Power & Politics: A Renewable Future for the Seventh Generation by Winona LaDuke; and Recovering Traditional Foods to Heal the People: Food is Medicine, by LaDuke and Sarah Alexander. The first book deals with Native American tribes' historically large role in the "big business" of energy production. While they have been paid a "pittance" in return for their resources, royalties do constitute a large part of their treasury. As Duke points out, however, this has come at the expense of their health, and her book explores the potential for renewable energy in Indian country.
Food is Medicine explores the Native peoples' long history of traditional food growing practices and how colonization and forced removal, along with industrial agriculture, biotechnology, and globalization have "changed starvation from quick and obvious to hidden and slow." The Indigenous communities are today recovering agricultural traditions to strengthen community health. For more information see www.honorearth.org or to order the books call 1-800-EARTH07.
Status Hearing on Aamodt Adjudication Full of Surprise
By Kay Matthews
Bradley Bridgewater, an attorney respresenting the U.S. Department of Justice in the Aamodt adjudication settlement negotiations, dropped a bomb at the negoitation status hearings before Judge Martha Vasquez (and Judge Smith) on January 12: the executive branch has decided it will not approve the negotiated settlement that calls for the federal government to contribute an estimated $200 (of the $280-300 million total cost) to underwrite a water delivery system. As the first speaker at the hearing he said, "Considering that related litigation will ensue [if the proposed settlement is adopted] the federal government believes the proposed settlement is in excess of our financial liability." Judge Vasquez responded, "How can you come to me at this late date and tell me the federal government is unwilling to support the proposed settlement? Isn't this a congressional decision?"
The judge was right, it will indeed be up to Congress to allocate the government's financial commitment to the settlement proposal. But, as Bridgewater indicated, if the executive branch, through the Department of the Interior, fails to endorse the settlement, it is essentially dead in the water. While the immediate reaction of the state's congressional delegation to this information was that they would fight to get the necessary money to build the water delivery system, Senator Pete Domenici, in a statements made several months ago in response to huge public opposition to the terms of the settlement, threatened he would not pursue funding if the defendants couldn't settle the case in a timely fashion. As one of the defendant lawyers said on the way out of the hearing, "What do you expect the feds to do with a $400 billion deficit and an unending war in Iraq."
At the end of last year, Judge Vasquez extended the negotiation process until March of 2005 (see La Jicarita, January 05). With this new information in hand, she asked all the lawyers present at the hearing to not only provide her with an update on the negotiations (the parties to the adjudication hold negotiation sessions twice a month) but to respond to the federal government's position. Most of the lawyers representing the Native American pueblos-Pojoaque, Tesuque, Nambe, and San Ildefonso-indicated that they would like to continue on schedule with the negotiations but would have to consult with their clients regarding the position of the federal government. The planned schedule calls for finalizing a settlement by March 31, with time over the summer for any objections, and a final presentation to the court by August 15.
Attoneys who represent the state of New Mexico were also present at the hearing and reiterated thepueblo lawyers position that the court should not yet abandon the negotiation process. They raised concerns with the judges, however, when they reported on the work they are doing to update ownership lists so there can be proper notification of affected citizens as the adjudication proceeds. With mass mailings and assistance from acequia commissions and lawyers, the state has been able to update approximately 1,000 addresses of property owners. Judge Vasquez wanted to know how many people have not been identified as claimants, admonishing them that notification through the newspaper legals is not going to be good enough in this adjudication.
Mark Sheridan, the lawyer who represents the Rio Pojoaque Acequia and Well Water Association, provided the judges with the most detailed accounting of the status of the negotiations. He explained that because of vocal opposition to the proposed settlement the Association had elected a new board to reflect differing points of view, particularly with regard to the issue of capping domestic wells. The new board produced two memoranda for additional negotiation, but ultimately were unable to come to an agreement and dissolved. Those who resigned (most of whom are members of the Pojoaque Basin Water Alliance) then hired Taos attorney Fred Waltz to represent their interests at the negotiation sessions.
Sheridan told the court that there are two primary modifications to the proposed settlement that are currently being negotiated: (1) the concern by the defendants that the participation of the city and county of Santa Fe will result in the settlement being used to export water to the county; and (2) the attempt to provide additional incentives in the settlement for non-Native residents to voluntarily consent to capping their domestic wells. He also addressed Vasquez's concern about notification: "Defendants must receive copies of the actual agreement for their review."
Sheridan was more cynical in his reaction to the news that the federal government was withdrawing support. He told the judges that the fundamental basis of the settlement was the municipal water system funded by the federal government: "I personally participated in meetings with federal representatives and the $250 million amount was explicitly discussed. They never told us this might be unacceptable. . . . This fundamentally alters the way we need to proceed. . . . If the federal government opposes the settlement and congressional legislation to fund it, we will be unable to proceed."
Defendant lawyer Fred Waltz suggested to the court that while he was prepared to proceed with the negotiation schedule it would be prudent to devote the next session to a discussion of the federal government's position in order to see if a settlement proposal is possible at this point.
Taos attorney Mary Humphrey was also present at the hearing and informed the court that she is representing a mutual domestic water association in Chupadero that has not been included in the negotiation process. She plans to meet with the pueblos and petition for the water association to intervene. Judge Smith asked if there were additional domestic water associations that had not been included in the process and Mark Sheridan informed the court that there are four additional mutual domestics in the valley that need to be adjoined as parties to the adjudication process.
With input from Judge Nelson, who presides over the negotiations, the court decided to allow the sessions to proceed and to schedule another status conference at the end of April. Judge Vasquez ended the hearing with an admonition: "This case has been going on long enough. I get an upset stomach when I drive up north and see the extent of the development: we continue to live and build as if we don't have a problem. At the next status conference we will decide whether this case will be litigated."
The parties to the settlement subsequently met in a negotiation session to try to work out some kind of plan to deal with the reduced federal funding.
Interview With Diana Trujillo: Carson National Forest, El Rito District Ranger
La Jicarita News: You grew up in this area, got an education and worked outside New Mexico. Give us a little background and tell us why you wanted to come back.
Diana Trujillo: This has always been my favorite place in the entire world. My family is from here, my mom grew up in El Rito, my grandparents are from here, and I spent my summers here. I went to school at the El Rito community college in the forestry program, then went on to get my degree at New Mexico State University. It's always been my hope to come back and do something for the community. It's taken a long time to get here: I worked for several years with the Corps of Engineers as a park ranger at Abiquiu Dam just down the road; I worked with the Bureau of Reclamation, primarily in the planning of projects, public involvement, and environmental compliance; and then I worked several years for the Fish and Wildlife Service at the regional level. I went back to the Bureau of Reclamation in their office of policy, which is headquartered in Denver. I never thought this job would come open and I didn't know what my chances were but I was able to get it and I plan to stay here until I retire. I have another sixteen years, probably enough time to get some things accomplished. I came on board in June of 2003, and I think the experience I bring, having worked at the field level, area office, district, regional, and headquarters level will be valuable in working on the issues here, particularly the Vallecitos Sustained Yield Unit, because it crosses all levels of management.
LJN: As you just mentioned, this district is special because it contains one of only five sustained yield units created by Congress after World War II to benefit the residents of areas that are particularly remote and economically disadvantaged. Carson Supervisor Martín Chávez is on record saying that if there isn't significant progress made towards getting local community foresters active in the Unit he wants to rescind the designation. What's the importance of the Unit to the surrounding communities and what is your office doing to help locals take advantage of its resources?
DT: First of all let me say that in the conversations I've had with Martín Chávez he has made it clear that his intent is to push not just the community, but us, the Forest Service, into action. He is very supportive of the Unit and wanted to impress upon me as the district ranger and the community the importance of working together to make it a success. I don't think that Congress could have picked a better location to establish a sustained yield unit than the Vallecitos because this area has been, for hundreds of years, a community asset, a community managed resource, and it's been critical to the survival of people here. I've spent the last year and a half talking to a lot of different groups, including the Jicarilla Apaches who inhabited the area for so long. It's always been critical in their lives and still meets a lot of their needs today. Even though the Unit was established decades ago, the designation remains timely. With the direction we're seeing now in the Forest Service, towards economic stability and development of communities, protection of communities from fire danger, and restoring ecosystem health, it's a time when we can really take advantage of this designation. The last thing I would ever want to do as district ranger is close this Unit down. What we need to do now is define with the communities how we can make this Unit successful. We have to identify all the partners, such as the college [Northern New Mexico Community College at El Rito] and local businesses, for profit and not for profit, and then once we have a vision of what success would look like we have to put all the pieces and responsibilities and deadlines in place. The Congressional delegation and Governor Richardson have shown a lot of interest in the Unit and willingness to support programs within it.
LJN: You mentioned there are new opportunities for taking advantage of the Sustained Yield Unit. Could you be more specific.
DT: Our authorities now include Contract Stewardship and the Collaborative Forest Restoration Project (CFRP) grants, both of which can be useful. Other incentives include money available for biomass development, foundations grants, state involvement via the college, and an offer from Congressman Bingaman's office to help develop business plans and bring in other interested parties. One of my concerns is that there are factions in the community. By that I mean different communities and people, which is normal, but we need to try to bridge their differences. So we're trying to get people talking and at the same table. There's plenty of opportunity to get everyone together particularly if we look beyond the Unit to the forest as a whole. Other rangers in the Carson are interested as well in helping the Unit. We need to start looking beyond Unit boundaries, district boundaries, and forest boundaries. We need to get a process in place where it won't matter if there are changes in personnel. While I'd like to stay here for the duration, you never know with government service.
LJN: So are you looking at a strategic, long-term plan to manage the Unit?
DT: Yes, I think that's going to be critical. I would like to see a ten-year overall plan that would be part of a larger economic development plan for the area. The plan needs to lay out how the Forest Service and the communities are going to work together and identify other key players, like the county. That's what we're working on right now, laying out the public involvement process. One of the first things we have to do is take a look at the policy statement for the Unit and see if it needs to be revised. Right now it looks at a lot of nuts and bolts and what I think we need is more of a vision statement. I think more specific goals and policy belong in the Forest Plan.
LJN: We'd like to talk more specifically about the CFRP grants. This is the last year of the funding cycle and no organizations in the Unit have so far been funded. Do you know if there are groups who are going to apply this year and what areas of the Unit are NEPA ready?
DT: We're expecting a proposal from Alfonso Chacon and Sons. His proposal would target the Ensenada Analysis Area. We finished the analysis (EA) last October but we were appealed by the Center For Biological Diversity. We should get a decision on the appeal by next week and I hope it won't be upheld. The appeal is based on cutting trees over 16 inches in diameter [but does not request a stay on logging trees smaller than that].
Editor's Note: The Unit Forester, Amy Veirs, came into the interview to provide an overview of the Ensenada sale.
Amy Veirs: The total number of treated acres is 1,781, primarily ponderosa pine, which will be treated with precommercial thinning, sawtimber extraction, fuelwood and viga extraction, and prescribed burning. There will be a 25-acre aspen regeneration project, a 32-acre meadow enlargement, 2.75 miles of road construction, and 7.5 miles of road closure. While the EA calls for a total volume of 2.3 million board feet, I think 1.8 million board feet is more likely. Alfonso Chacon has told us he could handle the aspen regeneration, the road relocation, and thinning contracts. He doesn't have the trucks he needs for the commercial cut, although he could perhaps work with Mike Peña, another approved Unit operator, who owns heavy equipment.
DT: It's a great CFRP project because it includes an educational component for kids to get out there and do meadow restoration, taking roads out that bisect meadows, and reduces fire danger. I was very surprised it was appealed. We spent quite a bit of time consulting with groups on the sale, including environmental groups that appealed previous sales, like Carson Forest Watch. I've also been talking with Forest Guardians. We want these groups' involvement from the get go, in the planning process itself. It's much easier to work with them if they're involved in the design phase. They need to get up and see these lands as we're assessing them. I was a little disappointed that we didn't get more participation at our public meetings, and I think we'll be more successful if we can get people out there on the ground.
LJN: Public participation is obviously important, but as the history of the Agua/Caballos project demonstrates, even with the involvement of environmental groups, some groups still find grounds for appeal. How do you avoid the problems that took Agua/Caballos 13 years to become NEPA ready?
DT: That's a very good question. Sometimes, on even the most well thought out projects, groups are not going to agree on what should be done. It's not an easy job to be in the decision making role, but sometimes we're going to have to agree to disagree and let the process work it out. It's going to depend on each project, and perhaps categorical exclusions can help us out. However, I don't want to take what is a very good tool and in any way misuse it to get projects through. I'd like to keep our credibility as high as we can.
LJN: Building roads for larger sales like Agua/Caballos has been a stumbling block for most of the operators in the Unit because they don't have the necessary equipment. How can you address that?
DT: It's not just a problem on this forest. The Forest Service is going to have to take a leading role in finding money and equipment. The Santa Fe has gotten creative in how they're addressing road issues and we're coordinating with them. The county has also been great and has done some road work for us. This is another issue where we're going to have to look beyond district and forest boundaries so we can share equipment and other resources. Along these same lines we need to look at the policy that requires milling on the Unit. In last year's CFRP proposals Alfonso Chacon and Las Comunidades agreed that the wood Mr. Chacon cut could be milled at the old Vallecitos Mill that Las Comunidades manages. But if the mill is not ready, where does the wood go? Perhaps we should examine a first right of refusal for the Vallecitos Mill. Our timeline for working out those kinds of issues is this fiscal year. What I would like to see is opportunities as broad as possible with as few restrictions as possible. It looks like we've built in a lot of structure in the Unit that makes it difficult for anyone to succeed. If I were an approved operator in the Unit I would want flexibility. The communities should be making these decisions. We should be looking beyond timber to what other opportunities we have, but timber is certainly the glue that holds things together.
Taylor Ranch Claimants Attend Status Hearing on Access Rights
Tempers flared on both sides at the recent hearing regarding additional access rights to the Taylor Ranch in southern Colorado (nine heirs in title were granted access last June). While as many as two hundred people were identified as landowners of valley land where the original Sangre de Cristo settlers lived and therefore shared common use of the 77,000-acre grant (referred to as the Taylor Ranch), they will have to wait until the next status hearing in April before a court order will be issued granting them access rights to the ranch. The new ranch owners, Bobby and Dottie Hill, who purchased it from former Enron executive Lou Pai last year, weren't thrilled when Judge Gaspar Perricone rejected all their attempts to challenge his decisions and announced that he will consider making them pay claimant attorney fees.
Despite the heightened emotion, the case moves forward on several fronts. According to Arnie Valdez, planning director of the Land Rights Council (LRC), the San Luis-based land grant advocacy organization that has long been involved in the case, a biological resource inventory of the ranch has been completed and potential conservation areas have been identified. LRC received another $75,000 grant from the same foundation that funded the organization to undertake a management plan for the grant, which will be completed by the end of 2005. Currently, Valdez is gathering data, drafting an outline for community forums, contacting consultants, and compiling GPS data on the ranch.
While probably only half of the potential heirs in title identified at the status conference are interested in grazing their former common lands, Valdez plans to put together a grazing plan by July, when ranchers are ready to take their cattle to the ranch for summer pasture. There is less pressure to immediately develop a wood gathering plan, according to Valdez, because firewood is readily available on the ranch and extensive thinning needs to be done to restore forest stands.
"We're all excited about the planning process as it moves forward," Valdez said, "but we have to be patient and also plan for community oversight once a management plan is in place." Valdez is also planning for the longterm viability of LRC, which recently negotiated the purchase of land from the school district for a permanent home. "We want to design and build a facility with traditional materials like those that people gathered from the grant. We think it is appropriate to have an indigenously-built facility that will be involved in the oversight of the management plan."
Proposed Acequia Legislation
The New Mexico Acequia Association is drafting a bill for the 2005 legislative session that would amend state statutes to provide better enforcement of acequia easements and prevent obstruction or interference with their operations.
With regard to easements, the legislation proposes that in all cases where there has been continuous use of a ditch for the purpose of irrigation for five years, it is unlawful for the owners of the land where the ditch is located to interfere with the acequia easement or prevent convenient access. If the landowner does attempt to interfere with the easement, the district attorney, the mayordomo, or a commissioner of the acequia can make a criminal complaint to magistrate court: misdemeanor fines of not less than $300 and not more than $1,000, or sentencing up to ninety days in the country jail, can be imposed. In lieu of a criminal complaint, the district attorney, mayordomo or commissioner may file a civil complaint seeking penalty not to exceed $500. These officers may also ask district court for an injunction against anyone interfering with access to the acequia.
The second section of the bill would prohibit a water right owner, against the order of the mayordomo or commissioner, to "cut, break, stop up or otherwise interfere with any community ditch or dam in this state, or any contra or lateral acequia thereof . . ." Again, the district attorney, mayordomo or commissioner may file a criminal or civil complaint against the parciante, with the same applicable fines.
A current conflict on the Acequia La Rosa de Castilla in Placitas demonstrates the need for such legislation. Acequia parciantes were not consulted by members of the Las Huertas Restoration Project designed to preserve riparian area along Las Huertas Creek, which feeds the acequia. One member of the project, who owns land along the creek which the acequia bisects, has refused access to acequia parciantes and is on record stating, "That water belongs in the creek where nature intended it to be." Unfortunately, the acequia diversion was recently vandalized: the wheel valve that controls the flow and a section of pipe were removed and thrown into the creek.
Many of the folks involved in the restoration project are relative newcomers to the area and know little about the history of the acequia or even that acequia parciantes hold senior water rights. At a recent restoration project meeting, many area parciantes and longtime Placitas residents turned out in force to educate project members about the cultural and environmental importance of the acequias - which recharge groundwater and improve riparian habitat - and to demand inclusion in the project.
Action Alert
The Valle Vidal Coalition came together in 2004 to organize against the possible drilling of coal bed methane (CBM) gas in the Valle Vidal of Carson National Forest. According to the Coalition, if CBM development is allowed, 40,000 acres on the eastern side of the Vidal "would be turned into an industrial wasteland." Up to 1,000 gas wells would be drilled, spaced every 40 acres on a 3-acre constructed well pad. Each well pad would contain a drilling pit, large storage tanks, well site compressors, and other treatment devices containing a host of hazardous and toxic substances used in drilling. Each well-pad site will be connected to a spider web of several hundred miles of roads, pipelines, and power lines.
Carson National Forest is currently in the process of defining the proposed action and how the Valle Vidal will be managed for various activities. The scoping process comment period is from March to May of 2005. The Coalition is asking concerned citizens to write to Martín Chávez, Forest Supervisor, to address three questions: 1) What are your connections or experiences in the Valle Vidal? 2) How do you value the Valle Vidal? and 3) What do you want to happen in the Valle Vidal. The address is: Carson National Forest, 208 Cruz Alta Road, Taos, NM 87571. To make a tax deductible contribution to protect the Valle Vidal, send your checks to these coalition member groups: New Mexico Wildlife Federation, 2921 Carlisle Blvd NE, Suite 200-J, Albuquerque, NM 87110; or Amigos Bravos, P.O. Box 238, Taos, NM 87571.